Old Age
The presence of the Roman period in Aguilafuente probably dates back to the first three centuries of our era, as can be seen from the findings produced in the highimperial deposit of La Guarnecida, also with the burial stele embedded in the Church of San Juan Bautista, with An epigraphic formula whose chronology goes back to the 2nd century AD and, above all, with the presence of a high-imperial sigillata in the Roman villa of Saint Lucia, which brings forward the date of the founding of this latifundist settlement until the end of the first century. Principles of II AD
The town of Santa Lucía contains mosaics, wall paintings and abundant ceramic material, in which the fragments of terra sigillata Hispanic late, as well as common ceramic, stand out, which indicates the presence in this area of ​​a mansion whose owner boasted the Ownership of a large landowner.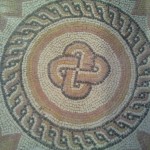 Other deposits of the period are found in the area known as Los Valladares and again in La Guarnecida.
The province of Segovia is lavish in finds of the Visigothic people, as evidenced by the Visigothic necropolis of Duratón, Castiltierra, Ventosilla and Tejadilla, Espirdo, Madrona or Aguilafuente. In our case, the necropolis was discovered during the excavations of the town of Santa Lucia, overlapping with the already abandoned remains of the Roman building. 198 excavations were found in the excavations, of which just half (99) had some kind of funerary trousers, highlighting the fibula, belt clips, necklaces, earrings, rings and earrings.